10/01/2105

Join us Thursday, October 8 at 8pm for Nerd Nite Detroit's first-ever Food Science Fair at COLORS Detroit.
This event will be just like your elementary school science fair (think vinegar and baking soda volcanoes), only with food and a few adult beverages. It will be a strolling affair, filled to the brim with interactive demonstrations and presentations on the neuroscience of taste, to cooking with liquid nitrogen, the nitty-gritty of making beer, and more. Demonstrations and presentations by: Justin Riopelle, Brewmaster at Detroit Beer Co.; Nathan Glitman, Barista at Chazzano Coffee; Charlie Gibson, Outreach Coordinator at the Michigan Science Center; Tom Fischer, Professor at Wayne State University Behavioral and Cognitive Neuroscience; Julie Lesnick, Assistant Professor, Wayne State University Department of Anthropology; and more!

After all of that learning, nerds can dance the night away to the beats of DJ Peter Croce, from 10pm-midnight. Food will be provided by COLORS, and drinks available at the COLORS bar.

Come explore the area's expanding food and drink scene in new and nerdy ways, all while supporting COLORS' community development and job training programs.
Date: Thursday, October 8
Time: 8pm – midnight
Location: COLORS
Detroit, 311 East Grand River Ave, Detroit, MI 48226
Cost: $10 at the door, or in advance here
Questions: nerdnite313@gmail.com or tweet @nerdnite313
---
05/25/2014
View the presentation here.
---
02/25/2013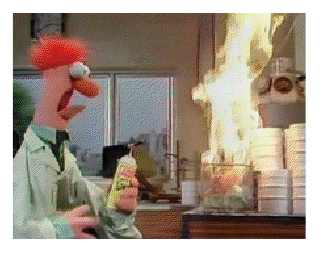 Science Fair style food experiments & demonstrations
Saturday, March 2nd, 2013 from 1-3 PM
Countryside Banquet Center
596 S Cedar St Imlay City, MI 48444
Sample yummy food!
Cook with liquid nitrogen!
Watch food explode!
Saturday, March 2nd, 2013 from 1-3 PM
Countryside Banquet Center
596 S Cedar St Imlay City, MI 48444
---
09/22/2012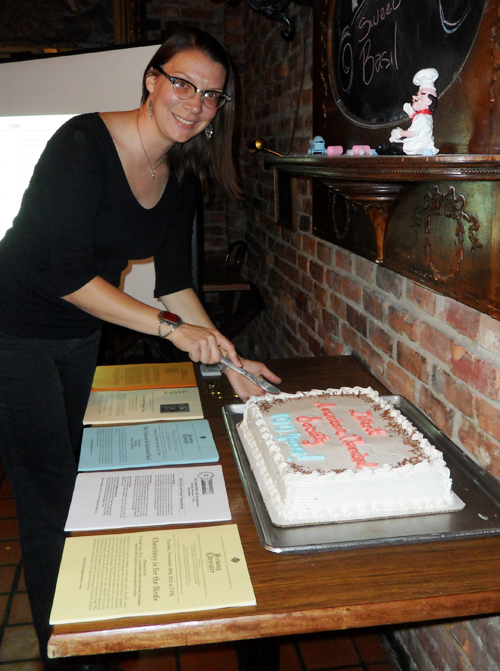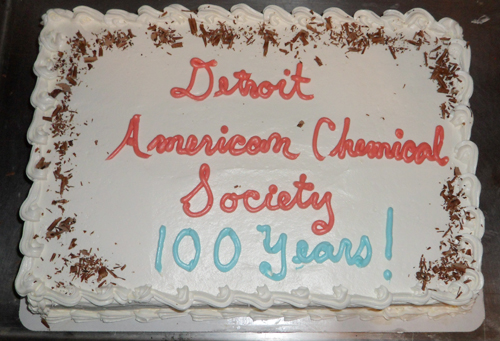 On January 3, 1912, Detroit received its official charter from the National ACS to form the Detroit Local Section.
Happy 100th Anniversary!!
---
05/12/2012
Featuring invited speaker: Mark E. Davidson, Special Agent, Federal Bureau of Investigation Mark E. Davidson is a special agent at the Detroit office of the FBI. Agents at the Detroit branch possess a mix of talents and experience that enable the FBI to help protect you, your families, and your workplaces from a full range of national security threats and major crime problems. Mark E. Davidson will explain the role of the FBI with regards to weapons of mass destruction and one of the nation's largest international border cities. The Detroit Division, one of the FBI's larger field offices, has three counterterrorism squads that are broken down according to the organizations they cover and geographic areas of the world. Squad members utilize chemical, biological, and nuclear science to investigate terrorist threats against the United States.
Come learn about employment opportunities and the outreach programs that the Detroit Division of the FBI has to offer!
Thursday, June 7, 2012
12:30 – 2:00 PM
The Gallery Room of the Henry
$25 per person
---
10/31/2011
Apply Today - ACS Student Sponsorship
Brewing Chemistry is sponsoring American Chemical Society student memberships. ACS is the world's largest scientific society for chemical professionals and offers numerous membership benefits. One-year ACS memberships will be awarded on December 4, 2011. Detroit area undergraduate Chemistry or Biochemistry students are eligible to apply
Click here to submit an online application.
Applications must be received by November 30, 2011.
For more information on ACS memberships, please visit the ACS undergraduate website.
---
11/16/2010
BREWING CHEMISTRY IS TWO YEARS OLD!
Brewing Chemistry has been a monthly science café for two years now and it is all thanks to the help and support of you.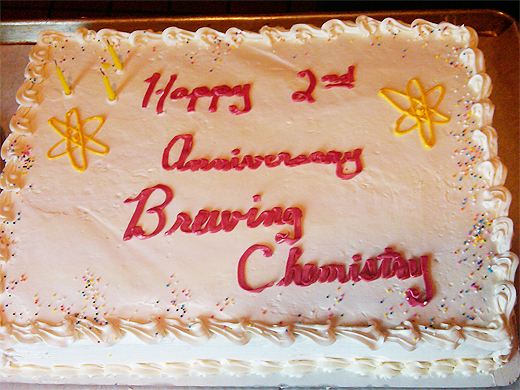 ---
09/30/2010
Join the Younger Chemists Committee for Wayne State University's annual Mortuary Science Open House on October 14, 2010 from 6-9 P.M. This free event will feature guided tours through the four-story building housing the most advanced teaching and research resources in embalming, anatomy, restorative arts, and microbiology laboratories. The bomb response unit, a self-contained mobile laboratory, of the Bureau of Alcohol, Tobacco, Firearms and Explosives (ATF) also is expected to be onsite. The building is home to Anatomic Pathologists' Assistant, Clinical Laboratory Science, Mortuary Science and Forensic Investigation programs of the Department of Fundamental and Applied Sciences, Eugene Applebaum College of Pharmacy and Health Sciences.
The building is located at 5439 Woodward Ave. at Ferry, three blocks north of Warren Ave. Free parking will be available in WSU Lot #33 on Wooward Ave., between Ferry and Palmer streets.
To discover more about the chemistry behind mortuary science, this month's Brewing Chemistry lecture on October 19th will feature Chief Forensic Toxicologist Dr. Gary Kunsman.
---
08/25/2010
The Younger Chemists Committee of the Detroit Local Section received an ACS ChemLuminary award.
The 12th Annual ChemLuminary Awards celebration was held in conjunction with the 240th ACS National Meeting in Boston, MA on August 24. Approximately 400 chemists came together to recognize local sections, regional meetings, and divisions that received accolades for their tireless efforts and work in promoting chemistry and the chemical sciences in local areas during 2009.
The Detroit Local Section received the Outstanding Local Section Younger Chemists Committee Award.
The Detroit YCC organized a series of 10 well-attended programs with a wide range of appeal. Each program was planned to include an educational component as well as to facilitate socialization and networking opportunities.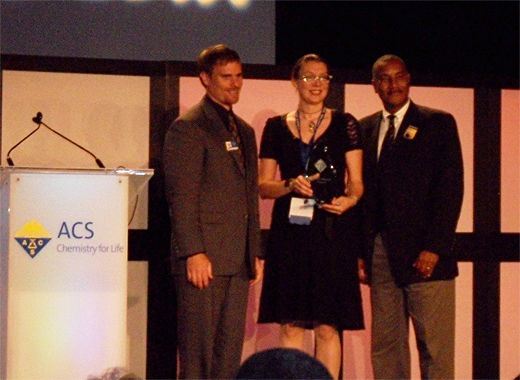 (L-R) YCC National Chair Michael (Mick) Hurrey, YCC Detroit Section Chair Meghann Murray and Joseph S. Francisco, Ph.D., 2010 ACS President.
---
07/15/2010
This week's episode of Joe Genius, which appears on Revision3 Internet Television via Discover Magazine, features Meghann experimenting with liquid nitrogen and soapy water with explosive results. The frothy chaos takes place approximately 7 minutes and 50 seconds into the segment.
For more fun with liquid nitrogen, be sure to join us on August 17th at Traffic Jam with Dr. J conducting experiments.
---
02/12/2009


WWJ 950 AM Radio Great Stuff Segment 02/12
WWJ's Roberta Jasina highlights GreatStuff to do in Southeast Michigan this week.
Link to the podcast

Mp3 file also available